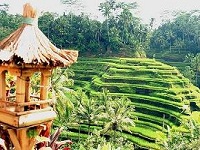 Bali Tegalalang Rice Terrace located on the north side of Ubud around 20 minutes drive. This area is a famous tourist attraction for beautiful rice terraces, many tourists who travel to and from Kintamani stopped at this place to witness the beauty of the verdant terraced rice field scenery or having lunch at the restaurant while enjoying the beautiful scenery of terraced rice fields. Tegalalang Rice Terrace is one of the tourist icons in Ubud Bali.
The rice terrace is designed very beautifully with exquisite hollowing rice field and precisely located on the hill bank. In this place, you will see the Balinese farmer do their rice field in the oblique area complete with its system irrigation. You will enjoy the beautiful panorama of the valley with rice terrace and coconut trees ornament it.
The northern part of Ubud, there is one area called Tegalalang, where many great home industries. Hundreds of miscellaneous crafts of cat and mouse, dolphin, giraffe, etc. that are made of wood or iron were manufactured here.  Other handicrafts produced are bags of different models from a variety of materials, stone carvings, cheap wooden carvings, wooden masks, all sorts of glass handicrafts is formed into a vase, unique bottles or plates. Everything is here. Shop and showroom are lined up along the 10 km, if we're shopping here, of course, depends on how thick is your pocket.  It's endless.